Hiking with kayaking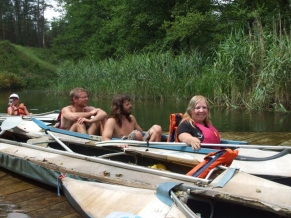 LAPD canoe trips – camps "Overcome yourself" people organized since 1996. Participants live in tents, the most produced food. This method helps people to acquire or establish independent living skills, because practically everything they will need to do the same in the wild.
People with disabilities can share experiences on how to overcome not only the self-care at home, but also physiological, psychological problems. Moreover, this environment encourages self-sufficiency of people with disabilities, a better understanding of their own abilities.
Lines expected most beautiful and the most suitable people to travel on rivers, lakes and lasts for 7 days. Each day, participants swim away about 8-20 km.