Theater festival-contest "Begasas"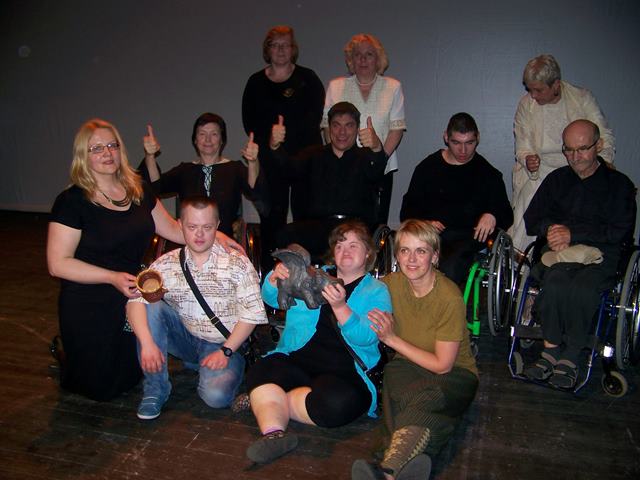 May 30-31 days were people with disabilities third theater festival-contest "Begasas". This year the event is on the disabled theater cultivators of Arthur Šablauskas (1963-2012), and Lavena social care home residents theater troupe leader Gintaras Kutkauskui (1959-2013).
The festival aims – to encourage disabled people to be creative and create the conditions for their artistic expression, to show the public their desire to create and participate in professional artistic activities. According to the Lithuanian Union of Persons with Disabilities Project Coordinator and festival artistic director Snieguolė Dikčiūtė, this year's festival was attended nine disabled troupes from all over Lithuania, each showed 15-minute performances of different genres.
The first day of the festival for adult theatrical productions. There was a theater collectives appearances. On the same day turns to whom the jury awarded the festival prize, Begasą – flying hippo sculpture, created by folk artist Eugene bird.
The second day of the festival on the International Children's Day. Lithuania for the Blind and Visually Impaired Education Center for Children and Youth Theatre Studio, Eyewear displays theatrical improvisation (by Rebecca Dautremer and Joana Danutės Žilaitytės works director. Puodžiuvienė Lina). Object Theatre Table Theatre gifts for disabled children play "Egle the Queen of Serpents" (through authentic old-fashioned things play Degutytė Sun, S. Dikčiūtė played the violin).
The festival is supported by the Disabled Affairs Department of Social Security and Labour.