Keeping the Wheels on Lithuania's Taxi Service for the Disabled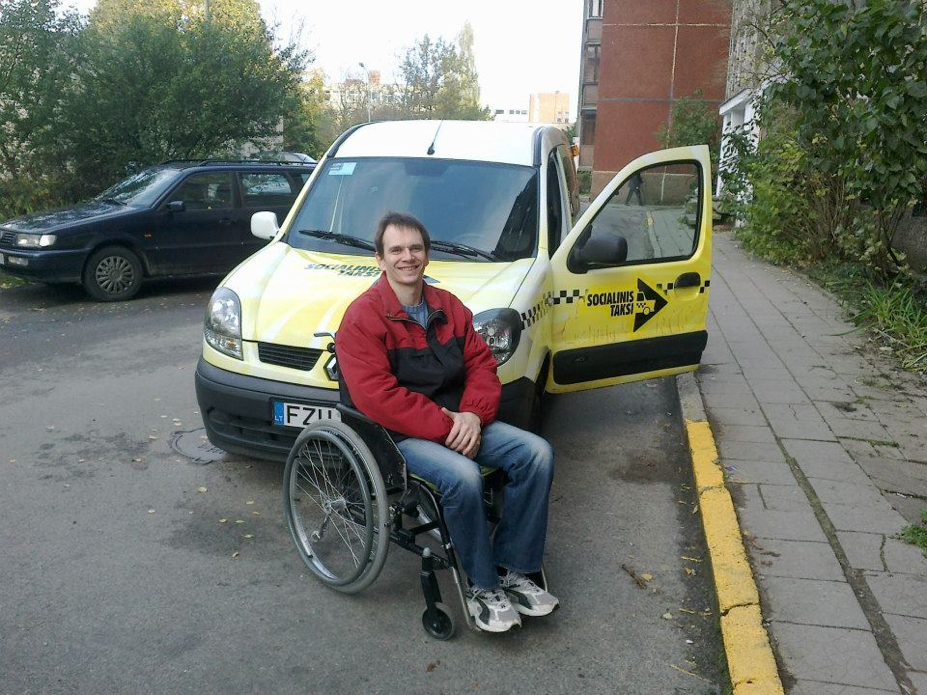 "My friend and work colleague lost her hands and legs [both were amputated after an infection that started when she injured her leg]. After this accident … she has reconciled with her disability very well and was able to work with computer systems, but the main problem was [now] with her living place. She equipped her flat as she desired, [but] I understood that she will never leave this lovely and safe place."
Arūnas Survila describes the unfortunate but all too common experience that makes disabled Lithuanians' already challenging lives more difficult. It is ultimately what spurred him to become the initiator of a project called Social Taxi.
People who have physical disabilities and live in Vilnius or Klaipėda, major cities in Lithuania, are able to call on the online-powered cab service, which helps them get around through increased assistance and accessibility.
"Her apartment was not adapted; it was [on the] fifth floor, and our office was in the center of Vilnius. I started thinking, 'How could she come to our office every day?' I realized that she is not the only person that faces such problems," Survila says.
To make matters easier for Social Taxi's riders, the service operates with unbelievably low fares that are much lower than the prices for Lithuania's regular taxis. A one-way ride on Social Taxi typically costs only three litas, or $1.20 (U.S.). Regular taxi prices are much higher: starting at two litas, with an additional two for every kilometer driven. The affordability helps, as disabled people can have relatively low incomes. But scaling up such a project doesn't come cheap or easy.
Despite the fact that the project required a huge investment, its founder does not see this cost as a problem. "If more initiatives emerged that solved concrete problems, then there would be enough money. There is so much improperly used money in Lithuania," Survila says. That opinion is widely shared by Lithuania's politicians and public. Even the country's president, Dalia Grybauskaitė, remarked in her annual speech on the state of the nation, "As we fought the downturn and worked to save our country from bankruptcy, we saw very clearly that the shortage of funds is not Lithuania's biggest problem. Lithuania's biggest problem is corrupt interest groups and irresponsible overspending."
Fortunately, local municipalities, private companies and nongovernmental organizations have helped Social Taxi survive the money shortage and put it in a position to provide inexpensive service.
But with a clear eye on long-term sustainability, Survila plans to steer away from a complete reliance on outsider funds. "In the future, we want to cover at least 50 percent of our costs by Social Taxi revenues, because we cannot be assured that we will be supported by the government." Government officeholders in Lithuania have one term every four years.
As it stands, many social enterprises in Lithuania go bankrupt because of a lack of investment and support from both private and governmental institutions. Many people do not launch social enterprises simply because they do not expect them to be profitable without outside support. There are simply not enough NGOs and private companies to prop up social businesses. And, even when they do receive financial support, social enterprises could be better helped with added access to advertising and investors.
To make matters worse, it is difficult to see the benefits of social enterprises, as they are usually unprofitable. But Survila disagrees. "First of all, I think that social enterprise is other kind of way to solve social and ecological problems. Only in second place we can expect it to be profitable. I think that [a] social enterprise should be measured according to how many social problems it solves."
Politicians, while supporting social enterprises, could benefit even more than the social entrepreneurs themselves. As British Prime Minister David Cameron once said, "We need to recognize the full potential that social enterprise has. It is not just about helping to tackle social problems at the community level; it is about mainstream businesses delivering public services with a distinctive focus on quality, serving the community, and employee pride. You showed us that social enterprises are not just creating social good but creating jobs and opportunity."
Cameron didn't utter these words out of a desperate need for greater popularity. Support from the government for social enterprises should come not only in the form of money. Politicians should search for original ways to provide better circumstances for social enterprises such as Social Taxi. When you launch a social enterprise, there are definitely people who will offer tax breaks, advertising aid, help through training courses, free offices—you name it. There are such people, but not in Lithuania.